Contact and Directions

We look forward to hearing from you!
General Inquiries
Phone: (978) 546-2989
Email: rockportuu@rockportuu.org
To reach our minister or staff members, visit their profiles on our Staff page.
Address
Unitarian Universalist Society of Rockport
4 Cleaves Street
Rockport, MA 01966
We are a short walk away from Rockport's Scenic Harbor, home of the famous "Motif #1", and Rockport's other downtown attractions.
Office Hours
The congregation's admin office is open from 8:30 am to 2:00 pm on Tuesdays and Thursdays. Hours are subject to change. Our office is minimally staffed so please check on the online calendar or call/email to make sure someone is in the office before making the trip over.
Entrances
During the weekday, please use the door to the right of the main sanctuary doors. When events are held in the Sanctuary (for worship, weddings, memorials, and more), please use the main entrance (double black doors).
Parking
Parking is limited. Non-meter spots can be found on Main Street, Hale Street and Cleaves Street. Except for Sunday Worship Services, please do not park between the corner of Hale and the step rails in front of the church (see photo below).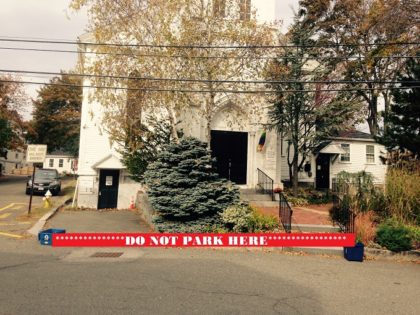 Residents with a parking sticker can park at Town Hall (a short walk away). Metered parking can be found on parts of Main Street and all downtown.
For large events, we will be accommodated at Town Hall.
Directions
Our Google Maps link offers you door-to-door directions for driving, walking, biking, or public transit.