What to Expect in Worship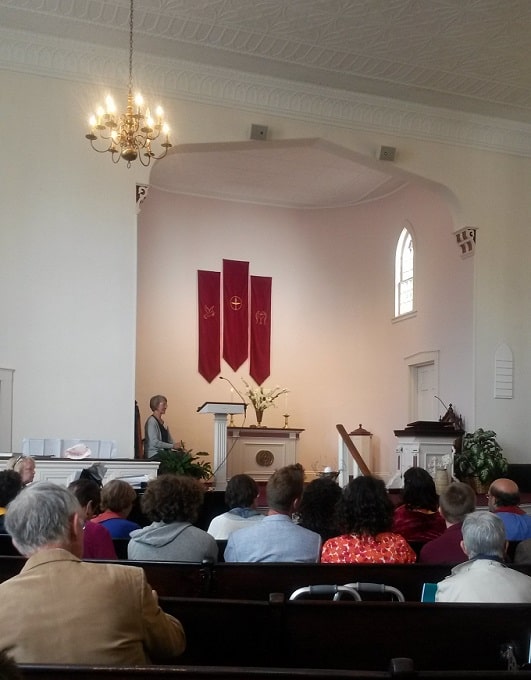 We gather together in spiritual community because we need constant reminders of what matters most in life. In a world of heartbreak and dehumanization, our congregations and communities call us to our better selves. We learn to live with more wisdom, more connection, and more compassion.
Our Worship Services are weekly reflections that weave together news, events, sacred texts, music, and poetry that both comfort and challenge. Our adult education and social justice programs inspire us, and awaken us to our capacities to make a difference in our own lives and in the world.
We are inspired not just by religious sources but by the people with whom we journey: the diverse and spirited Unitarian Universalists.
Unitarian Universalist worship styles vary by congregation, and even within congregations. Some congregations' worship is contemporary and high tech. Some congregations' worship is traditional and formal. Some features exuberant music, some includes long periods of silent reflection. Our congregation's worship is all of these things, with the exception of "high tech". Rev. Susan preaches traditional sermons much of the time, but we also enjoy experiential worship.
Elements of a typical Unitarian Universalist Sunday morning worship service include:
Words of welcome
Lighting a flaming chalice, the symbol of our faith
Story for all ages after which the children are sung to their classes.
Music, both instrumental and vocal and in a variety of styles
A time for lifting up the joys and concerns of the congregation
A meditation or prayer
Readings—ancient or contemporary
A sermon given by a professional minister, a guest speaker, or a member of the congregation
An offering, collecting financial donations for the congregation or for justice work in the community.
From time to time, services incorporate holiday celebrations, longer musical performances, child dedications, and coming-of-age ceremonies. We offer childcare and learning programs for children and youth during the Sunday service.
By season, we tend to offer the following special services:
Fall
Homecoming Sunday Water Ceremony
Jewish High Holy Days
Day of the Dead
Thanksgiving
Winter
Spring
Passover/Easter
Earth Day
Flower Communion
Summer
Gay Pride
Independence Day
Q&A – Questions for the Minister
The following meditation, Why I Come to Church, is from the book "Without Apology: Collected Meditation on Liberal Religion" by Rev. A. Powell Davies (Edited and introduced by Forrest Church), Skinner House Books, 1998.
"Let me tell you why I come to church. I come to church – and would whether I was a preacher or not – because I fall below my own standards and need to be constantly brought back to them. I am afraid of becoming selfish and indulgent, and my church – my church of the free spirit – brings me back to what I want to be. I could easily despair; doubt and dismay could overwhelm me. My church renews my courage and my hope. It is not enough that I should think about the world and its problems at the level of a newspaper report or a magazine discussion. It could too soon become too low a level. I must have my conscience sharpened – sharpened until it goads me to the most thorough and responsible thinking of which I am capable. I must feel again the love I owe to others. I must not only hear about it but feel it. In church, I do. I am brought toward my best, in every way toward my best.
I may not be so for everybody, but for me, this alone would make me seek a church. If I stayed away too long, I would be afraid of slipping into seif-centeredness and low ambitions and careless thinking. The sharpness of my moral perceptions might be blunted, and nothing would sharpen them again. I need to be reminded that there are things I must do in the world – unselfish things, things undertaken at the level of idealism. Workaday enthusiasms are not enough. They wear out too soon. I want to experience human nature at its best, and be reminded of its highest possibilities – and this happens to me in church.
It may seem as though the same things could be found in solitude, but it does not easily happen so. In a congregation, we share each other's spiritual needs and reinforce each other. In some ways, the soul is never lonelier than during a church service – that is certainly true of a pulpit, for a pulpit is the most intimately lonely place in the world – yet it is a loneliness that has strength in it. Perhaps it is because the innermost solitude of the human heart is in some paradoxical way a thing that can be shared that must be shared – that must be shared – if the spirit of God is to find a full entrance into it. We meet each other as friends and neighbors anywhere and everywhere, but we seldom do so in the consciousness of our souls' deepest yearnings. But in church, we do in a way that protects us from all that is intrusive, yet leaves us knowing that we all have the same yearning, the same spiritual loneliness, the same need of assurance and faith and hope. We are brought together at the highest level possible. And I think that is something the significance of which is so great at last as to be beyond description. We are not merely an audience, we are a congregation,and we unite – unite in quest of truth and God and life's own loveliest hopes and visions and for the reinforcement of our dedication to the service of our fellow human beings.
But I come to church also to be cleansed. After a week's life, even as the minister of a church, there are residues of thought and mood that I want to lose. I doubt whether I could possibly explain what it is in a church service that gives me a feeling of restored cleanness, but something does.
I come to church, too, to be refreshed and comforted – not in a cheap or easy way, far from it – but by feeling once again that in the mystery of human life with all its perils, pains, and fears, something answers the cry in our hearts. I doubt whether I could stand the thought of the cruelty and misery of the present world – its agony and torment – unless I could know, through an experience that renewed itself over and over again,that at the heart of life, there is assurance, that I can hold an ultimate belief that all is well.
Life must have its sacred moments and its holy places. We need the infinite, the limitless, the uttermost – all that can give the heart a deep and strengthening peace. We need religion with its faith and purpose; we need it as experience. We need the touch of beauty,bringing back to life its lustre and its loveliness. We need the unutterable communion of our spirits with the spirit of the highest – all that joins the soul with what it yearns for, all that can raise the frailty of our incomplete humanity toward the level of the spirit's aspirations – that our earthly dust may meet and mingle with the majesty and mystery of God."